The coronavirus has thrown a wrench in the plans of many business owners. Nobody had a global pandemic in their business plan. There is absolutely no way to prepare for a situation like this. Instead, we are going to have to use the resources we already have to keep business going as much as possible.
I'm going to focus on three platforms that everyone has access to that can help them continue to keep in contact with their clients:
Google My Business
Facebook
Website
1. Google My Business
Your Google My Business listing is the first thing that people see when they search for your business. Thus, every business should have a Google My Business listing, and if you don't have yours yet, now is the time to go out and claim it.
Update Your Listing
During this time, you need to keep your GMB profile up-to-date.
This means changing your hours if you've had to change them. It means changing your business description to mention what business services you're offering and how.
Also, triple check your current listing to ensure the information is correct.
COVID-19 Post
Google My Business has rolled out a new post type that allows businesses to describe the changes you are making during this time.
These posts show up at the bottom of your business listing and are extremely helpful for your clients.
Use "Attributes" to Communicate Services
GMB allows you to select some "attributes" of your business. It will be really beneficial for businesses to select attributes that people will be looking for at this time.
For instance, restaurants could use the attribute "takeaway" or "drive-thru" to let potential customers know that they can get their food safely.
Mark Your Business as Temporarily Closed
If you are having to close your doors during this time, Google is allowing you to temporarily market your business as closed.
NOTE: They have also assured businesses that they will not be punished for these temporary closures in the future.
2. Facebook Page
Facebook has made many of the same changes that Google My Business has. That being said, Google is always checking directories like Facebook for any discrepancies between listings – so make sure yours match!
Change Your Hours
If you go to your Facebook Page, a secondary navigation bar will appear at the top of the page. From here, select "Edit Page Info" and you can edit your hours, description and services.
Much like Google, Facebook allows you to mark whether or not these changes are temporary or permanent.
Pin an Update Post
A pinned post is the first thing people see when they come to your Facebook Page, therefore it is the best way to get information across to your audience.
If you are making changes to the ways you are doing business during this time, I suggest creating a post that covers all of your changes and pinning it to your profile.
Sell Gift Cards
Just a few weeks ago, Facebook rolled out support for digital gift card sales. This is a massive opportunity for anyone looking to continue to bring in revenue throughout these times.
Both Instagram and Facebook are partnering with Kabbage and Square to allow businesses to sell gift cards right from Facebook.
3. Website
Your website is the digital cornerstone of your business. You want to ensure that it is kept up-to-date as this is likely where the majority of your business is going to happen during this time.
AND IF YOU DON'T HAVE A WEBSITE, NOW IS THE TIME TO MAKE ONE!
Set up a Splash Screen
A splash screen is a full-screen message that shows up before people enter your site. This is the perfect place to put your COVID – 19 business announcements and updates.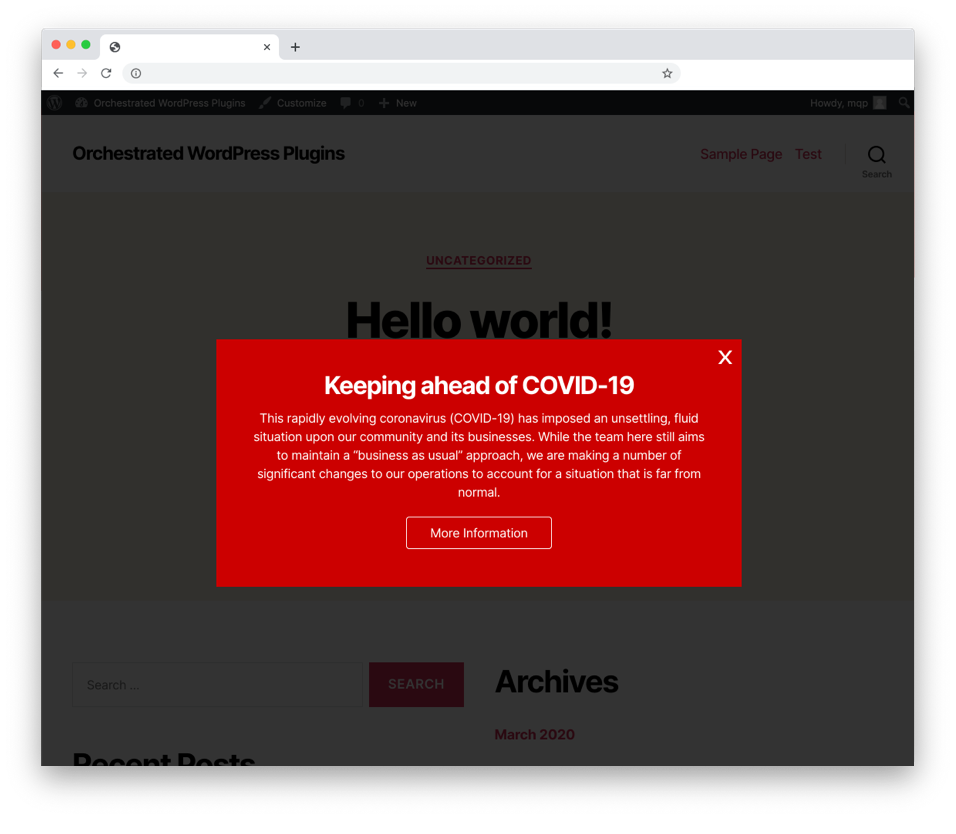 Get Creative, Go Digital
The internet is full of opportunities. While many of us are facing limitations, these limitations lead to creativity. While you may not be able to see your clients face-to-face, surely there is a way you can still interact with them online.
Yoga teachers are selling video sessions, art teachers are selling online lessons – the opportunities are endless!
If you sell products, set up ecommerce. If you sell services, sell video calls. If you're stuck, reach out to me! We can brainstorm.
Create Content
With all of the extra time you have on your hands, now is the perfect time to start creating all of the content you will need as soon as business is back up and running.
Some of the easiest ways to make content are to document what you are going through, take the time to record answers to some of the questions you get asked the most or to just create fun graphics on a platform like Visme.
Content is something that often gets pushed to the back burner, but can really make a difference if you invest some time into it.. And now you have time!
Stay Connected
The fact of the matter is, even if you cannot sell during this time, you can still connect.
Your connection with your clients is priceless. You want to stay top of mind and show support and value during this hard time. Because when this is all said and done, they'll remember who was making an effort.
So, create a Facebook Group. Join a Twitter Chat. Join or host virtual happy hours.
Don't give up hope. There is so much we can do! Make a plan, do the best you possibly can and keep moving forward. 💪